Application
Applications for 2022-2023 open on Monday, April 3, 2023. Application closes on Wednesday, April 19, 2023 [DEADLINE by 5pm]
Application found here: https://tinyurl.com/CEYAPP2023 & Letter of Support submissions: https://tinyurl.com/CEYLOS2023
Information Session Presentation & More Information on Requirements:https://ucla.box.com/s/y0gqyesjx97jx34zj6z5pod34tdu91pp
Presenting a *NEW* Student Organization Award: The SOLE Leadership Awards - Wescom Community Award (Same deadline as CEY): Application found here: https://forms.gle/bmj47ffuaK42Lyds7
If you have any questions or concerns, please email ceyaward@g.ucla.edu.
Check out the finalists and winners for the Charles E. Young Humanitarian Award on our SOLE Facebook Page and Bruin Leaders Instagram!
History of the Award
In 1986 a committee of students, faculty, and staff formed to create a way to recognize and promote the value of community service to a college education. That year The Chancellor's Humanitarian Award was established as an annual tribute to recognize and encourage projects that address the social needs of the community. The award was renamed in 1997 as the Charles E. Young Humanitarian Award, during Dr. Young's last year as Chancellor, in acknowledgment of his continued outstanding contributions to the recognition and promotion of community service.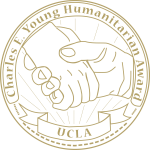 Humanitarian service is an integral part of the educational experience. To honor outstanding contributions and commitment to public service, and to encourage future projects that address social needs within the community, a $1000 donation to the recipients' student organization of choice is presented to 3 UCLA students in Spring Quarter. A candidate for this award must be a UCLA undergraduate, graduate or professional student in good standing at the time of application. Candidates must have performed an outstanding public service during the preceding twelve-month period. All programs, non-profit, governmental or community-based organizations qualify. The services may be in any field including aid to the hungry, homeless or sick; protection of the environment; work for the elimination of cruelty or injustice; and efforts for the resolution of community or national conflict.
2023 Winners

2022 Winners

2021 Winners

2020 Winners