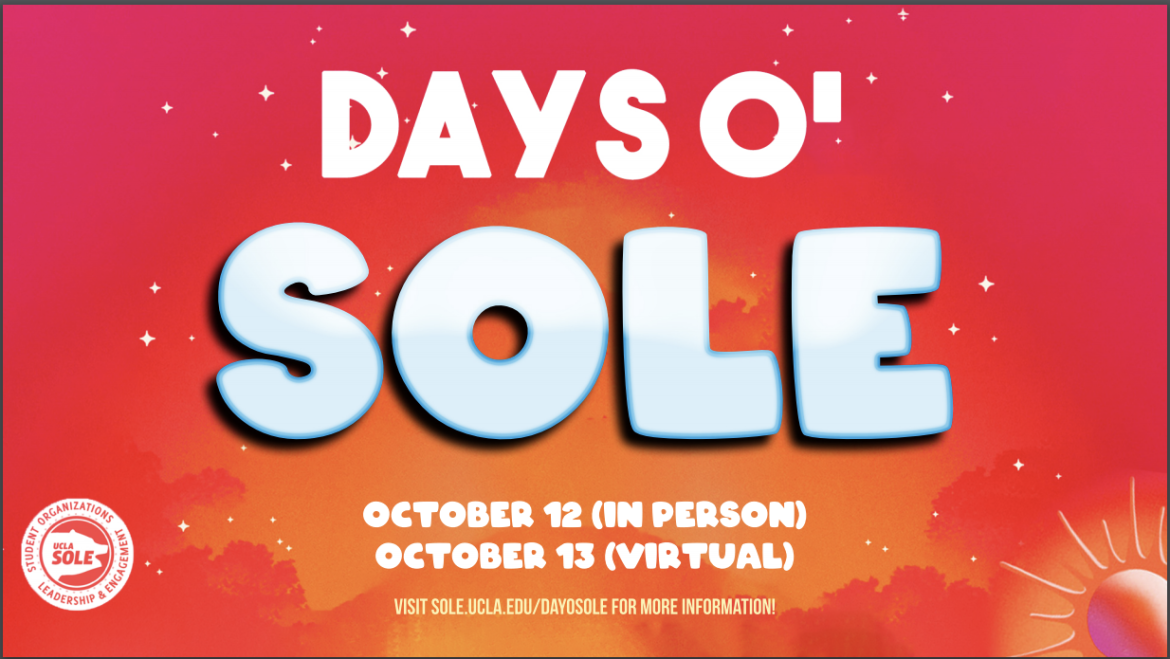 Fall 2022 Dates: October 12 (In-person) & October 13 (Virtual)
Location: Pauley Pavillion Concourse (All Corners)
We will be providing snacks and drinks!

*Attending these workshops will fulfill the requirement of attending at least 1 SOLE Workshop for re-registration (RETURNING RCOs)
*Attending the New Signatory/Organizational Workshop will fulfill the requirement for new groups meeting the requirement of attending for registration (NEW RCOs)
------
Wednesday, October 12 in Pauley Pavilion (IN-PERSON)
Wednesday, October 12 in Pauley Pavilion (IN-PERSON) Check-in @ 12:30pm (North side coming from Bruin Walk).
In-person & Virtual Workshops run from 1-5:30pm (Schedule will be posted at check-in table & throughout Pauley and on our website)
*Masks and COVID Clearance is strongly recommended, but not required. Please respect everyone's decision to keep themselves safe.
In-person workshops registration: All signatories and attending RCO members can sign in at our Welcome & Check-In tables at the Pauley Pavillion Entrance. All workshop schedules and locations will be posted throughout Pauley Concourse, along with QR codes for surveys/feedback assessment.
New Signatory Workshop - 1pm - 2pm, 2pm - 3pm, 3pm - 4pm, 4pm - 5pm: The new signatory workshop is open to all new signatories. The workshop will cover topics such as the roles of the signatories and accessing resources like funding, event planning, and risk management. This is required for all signatories of new groups and recommended for all new signatories in returning organizations. Presenters: SOLE
Programming Funding Workshop - 2pm - 3pm: This workshop is a general overview of university funding sources available for a variety of student activities. Tips on writing strong proposals will be provided. Learn how to access and manage allocated funds. Presenters: Program Activities Board (PAB) & SOLE
Student Toolkit (DEI Resources) - 4pm - 5pm: To provide UCLA Students with resources to navigate hybrid programming and organization operations. To provide resources for discussions and learning around social justice issues. Presenters: SOLE
Youth Safety Training - 3pm - 5pm: Join us for this session to discuss safety considerations and best practices for your organization that is providing in-person and/or virtual community service activities involving youth during the ongoing pandemic. The session will highlight current Los Angeles Department of Public Health (LADPH) guidelines that may impact your in-person operations. In order to minimize risk, precautions should be implemented and followed within your organization. For those organizations that have gone "virtual", best practices will be shared to ensure a safe virtual environment for all, especially if minors are involved. Presenters: Student Risk Education Committee
Zero Waste How to Host a Sustainable Event - 2pm - 3pm & 3pm - 4pm: From fundraisers to socials, meetings to sites, the Zero Waste Ambassadors at UCLA would like to teach you how to make all of your student organization activities and events sustainable. In our workshop, we will present easy tips and tricks that your club can adapt to be sustainable and provide you with resources you can utilize to be environmentally friendly. . Presenters: Zero Waste Sustainability Ambassadors Ying & Karlie
Thursday, October 13 (VIRTUAL/REMOTE)
Virtual registration: All signatories and attending RCO members can register with the zoom links hyperlinked below. You will receive the zoom link once you register online. Please be patient as we are still creating the registration links for these workshops.
Youth Safety Training: Join us for this session to discuss safety considerations and best practices for your organization that is providing in-person and/or virtual community service activities involving youth during the ongoing pandemic. The session will highlight current Los Angeles Department of Public Health (LADPH) guidelines that may impact your in-person operations. In order to minimize risk, precautions should be implemented and followed within your organization. For those organizations that have gone "virtual", best practices will be shared to ensure a safe virtual environment for all, especially if minors are involved. Presenters: Student Risk Education Committee
New Signatory Workshop: The new signatory workshop is open to all new signatories. The workshop will cover topics such as the roles of the signatories and accessing resources like funding, event planning, and risk management. This is required for all signatories of new groups and recommended for all new signatories. Presenters: SOLE
Programming and Community Service Funding: Learn about different funding sources that will support community service activities. Tips for writing strong proposals will be given. Find out what items you can ask funds for and how you access and manage allocated funds. Presenters: Program Activities Board (PAB), SOLE
Diversity, Equity, and Inclusion Resources: This workshop will provide UCLA student leaders with an introduction to diversity, equity and inclusion (DEI) in the context of student organizations. Students will learn from one another and discuss ways to promote DEI in their groups. Additionally, students will learn more about campus policies and resources related to DEI. Presenters: SOLE & SOLE Graduate Intern
Zero Waste How to Host a Sustainable Event - From fundraisers to socials, meetings to sites, the Zero Waste Ambassadors at UCLA would like to teach you how to make all of your student organization activities and events sustainable. In our workshop, we will present easy tips and tricks that your club can adapt to be sustainable and provide you with resources you can utilize to be environmentally friendly. Presenters: Zero Waste Sustainability Ambassadors Kikei & Karlie
Graduate Student Group Resources - 4pm - 5pm: The workshop will share UCLA Graduate Student Resource Center, UCLA Graduate Student Association and UCLA SOLE resources and opportunities for graduate and professional registered campus organizations. Presenters: SOLE & Graduate Student Resource Center (GSRC) and Graduate Student Association (GSA)
CAE - Center for Accessible Education: Advising student orgs on incorporating inclusivity & accessibility into both day-to-day function & large event planning. https://www.bruins4recovery.org/
Drivers Safety Training: If your community service organization will need to utilize university vehicles there are safety measures to keep in mind, especially during the ongoing pandemic. Presenters: Community Programs Office (CPO), Jerry Wilson
---
TENTATIVE
Building and Maintaining an Anti Racist Campus Organization: This workshop will discuss ways of developing and maintaining antiracist practices and programming within your organization. Presenters: Counseling & Psychological Services (CAPS), SOLE
Time TBD: Registration Link TBA
Hybrid Programming (Zoom programming) - Time TBD: A hybrid event simultaneously combines a traditional live, in-person event with an online component. This workshop will focus on developing and planning successful hybrid programs. Presenters: SOLE & ASUCLA
Time TBD: Registration Link TBA