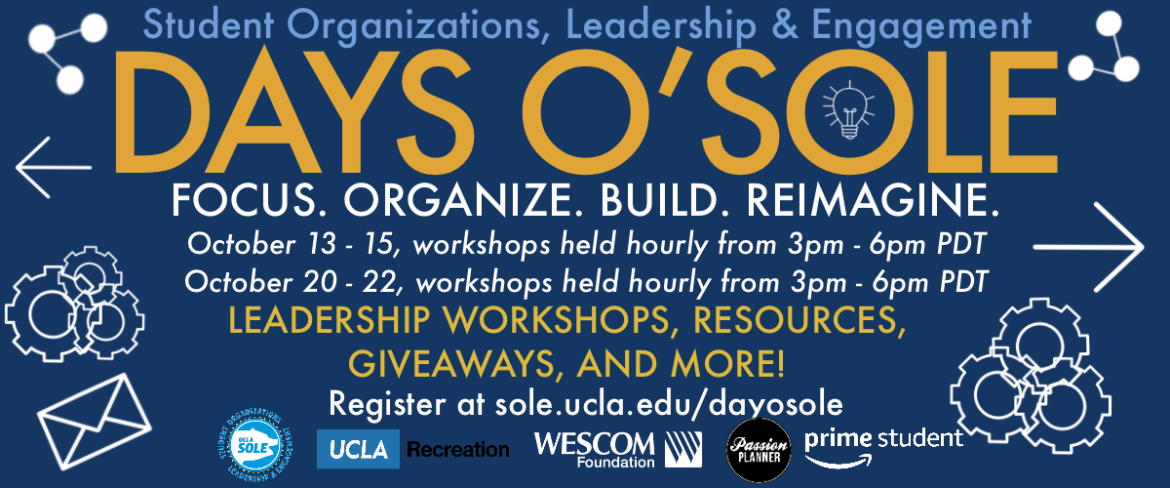 This year, Day O'SOLE has adapted to meet the needs of a digital setting by now taking place over the span of two (2) weeks! SOLE will provide daily workshops where student leaders can gain resources and tips to effectively run their student organization(s). Days O'SOLE will take place between Tuesday, October 13 - 15, and Tuesday October 20 - 22 from 3pm - 6pm PDT. We encourage you to browse through workshops we will be providing throughout the event!
Thank you for attending Day O'SOLE! We will post resources and some recordings as we receive them. So please check back for resources!
New Signatory Workshop
SOLE Advisors
This workshop will give you tips, tools, and techniques to running your organization. It is required for New Organization signatories to attend and highly recommended for any new signatories or student leaders!
Come join BruinsVote to learn how your organization can help increase civic engagement on campus and win prizes while doing it! You'll also learn about what's on the ballot, and how to vote safely with COVID 19.
Watch BruinsVote Workshop Recording. Visit BruinsVote Instagram!
Building and Maintaining an Antiracist Organization: A Student Leader Dialogue
UCLA Counseling & Psychological Services (CAPS) & SOLE Advisors
This workshop will give student leaders an opportunity to learn, experience, and practice sharing thoughts and feelings about racial injustice, and to build avenues for continued dialogue and action in student organizations.
Increase awareness of disproportionate impact from COVID, police brutality, xenophobia, etc.
Explore avenues for infusing antiracist principles in your organizations (e.g. from acknowledgment to action)
Practice engaging in dialogue about these issues as student leaders
Community Care for Student Activists
UCLA Counseling & Psychological Services (CAPS)
This presentation will involve both didactic and experiential components to learn ways to enact community care, increase sustainability, and center holistic wellness for student activists.
Name specific stressors and barriers impacting student activists' well-being
Identify principles of community care, going beyond an individualistic approach
Experience accessible, trauma-informed embodied practices
Digital Engagement Toolkit
SOLE Advisors & Program & Funding Advisors
The Digital Engagement Toolkit is a new resource created by the SOLE Team to help students navigate the world of digital engagement. We will review best practices for programming and managing your organization, as well as general tips for organization management and digital programming.
View presentation slides for Digital Engagement Toolkit!
Drivers Safety Training
Student Risk Education Committee
If your community service organization will need to utilize university vehicles there are safety measures to keep in mind, especially during the ongoing pandemic.
Funding
Program Activities Board & the USAC Assistant Budget Review Director
This workshop will share the wide variety of funding sources available for student-run programs.
Watch Funding for Student Programming Recording.
Harnessing Resilience In Times of Crisis: A Guide for Student Leaders at UCLA
UCLA Resilience In Your Student Experience (RISE) Center
This workshop will discuss ways of developing and maintaining antiracist practices and programming within your organization.
Workshop times:
Intentional Virtual Community Building Skills
This workshop will explore innovative tools to facilitate virtual community building. This will include focusing on intentional community builders for team bonding and strengthening and utilizing different virtual platforms.
Watch Intentional Virtual Community Building Skills Recording.
The Intersections of Identity, Consent, and Supporting Survivors
UCLA Campus Assault Resources & Education (CARE) Program
During this workshop, student leaders will learn how to support sexual violence survivors within the UCLA community. We will discuss consent, healthy communications and boundaries, the effects of trauma, rights, and resources, and campus resources dedicated to sexual violence.
Watch The Intersections of Identity, Consent, and Supporting Survivors Recording.
Keynote Speaker and UCLA Student Panel:
Dr. D'artagnan Scorza & a panel of UCLA Student Leaders
Watch the Welcome and Keynote Event on Facebook.
Dr. Scorza believes that education can be used as a tool for civic and social empowerment in order to advance justice in communities. His work has centered on building leaders who fight for equity in schools and communities while currently serving as the Executive Director and Founder of the Social Justice Learning Institute and President of the Board of Education for Inglewood Unified School District. He also serves as a lecturer in the Fielding School of Public Health at UCLA, is a UC Regent Emeritus and is the current President of the UCLA Alumni Association. In these roles, he helped pass policies that established veterans' services centers and prioritized $160 million for student services across UC campuses. He also improved sustainability in Inglewood schools by helping to secure $90 million to support school construction efforts.
Our panel of UCLA Student Leaders will include:
Karen Calderon, President of the Latinx Greek Council, Sister of Lambda Theta Nu Sorority, Inc., Program Activities Board Assistant
Ngoc Nguyen, Former President of the Vietnamese Student Union and former Community Advocacy Coordinator of the Asian Pacific Coalition
Naomi Riley, Undergraduate Student Association Council President
JP Santos, Graduate Student Association President
Nieves Winslow, Queer Alliance at UCLA
Staying Healthy and Safe Leading Your Organization in Times of Covid
Discussion of mitigation strategies to reduce or prevent local COVID-19 transmission as student leaders within your organization.
Student Leader Networking and Strategies Discussion
SOLE Advisors & Current Student Leaders
New and returning student leaders will have the opportunity to engage in discussion around the following topics with experienced student leaders in the following areas: member engagement, recruitment, event planning, and collaborations. This is an additional opportunity for student leaders to get to know each other and share strategies.
Discussions will also highlight how student leaders:
have adapted in this area to meet the demands of a digital setting

what platforms they have used

share success and challenges of navigating a specific area.
Virtual Programming Resources
UCLA Residential Life: Program & Event Management
Join the Program and Event Management team as they review their innovative Virtual Event Services platform. Participants will have a chance to learn what services are being offered under Virtual Event Services and how to best utilize this for their organization's programming efforts.
View presentation slides for Virtual Programming Resources!
Youth Safety Training
Student Risk Education Committee
We provide students with the essential tips on how to engage safely with youth service participants.